Pro Comp Drag Racing Headers
We have an extensive Research and Development Program for our Pro Comp Headers used by many Pro Stock Teams and Comp Racers across the country. Our Pro Comp Header is built to maximize High RPM Horsepower. These headers typically use one huge step in the primary tube. Our Pro Comp Headers include custom sized Merge Collectors.
Our Pro Comp Headers are an all out no compromise professional header. No expense spared. The set in the pictures are Ultra-lite weight 20 gauge Stainless Steel. They feature a true custom Merge Collector and are built to order after much discussion with the customer and engine builder. A set like those pictured just below starts around $3,650.00 and goes up from there. They are intended for use on high-end Comp Cars, Pro Stock and Top Sportsman Cars. Look for them at the next NHRA, IHRA and ADRL race near you.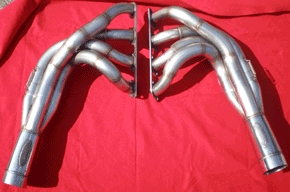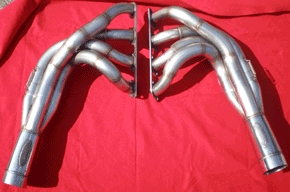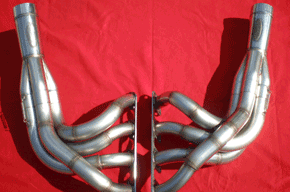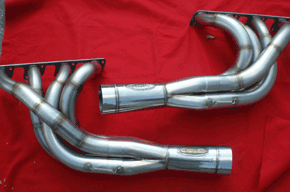 Each Pro Comp set is carefully built to insure excellent fit on today's Pro Stock door cars. We also offer this same Pro Comp construction on a dragster chassis platform. Our Pro Comp Headers are currently used by Pro Stock competitors Steve Schmidt, Kenny Koretsky, Chris Holbrook, Pete Carberry, and Billy Glidden. Our Pro Comp Headers are also used by Comp Racers Bob Bailey, Wayne Henderson. Pictured below is Bob Bailey's dragster running a set of our pro-comp headers. You're looking at the fastest carbureted dragster out there.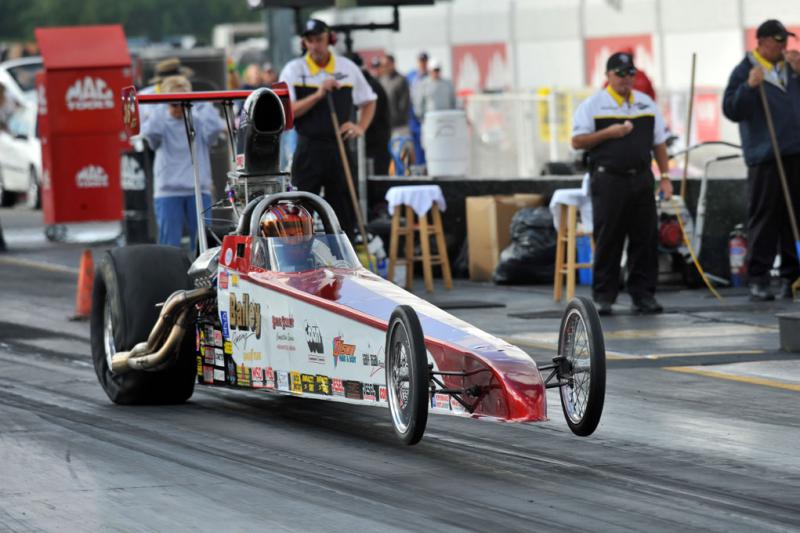 ---
Our latest design. GM DRCE2 and DRCE3 Stainless Steel Pro Stock headers. Each of these is constructed using only extremely light-weight 20 gauge stainless steel. Each set is expertly TIG welded while being internally purged. These new designs have shown significant Horsepower increases and some serious weight reduction. These designs are ever changing as we learn new things in the quest for Horsepower.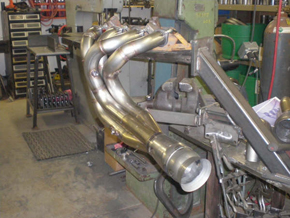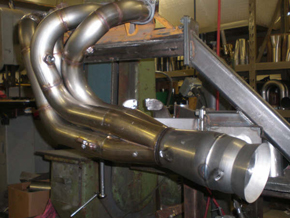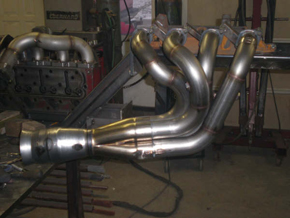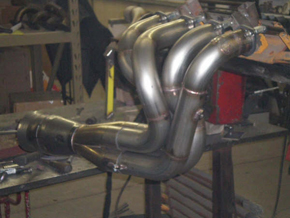 Below are pictures of a set of headers we built for Curt Steinbach's '63 Split Window Pro-Mod Corvette. It is powered by a 820 cubic inch 5" bore space, Steve Schmidt built engine. It makes approximately 1550 HP. This set of headers is very large. They are 2 1/2" to 2 5/8" to 2 3/4" with a our FAST Merge Collectors.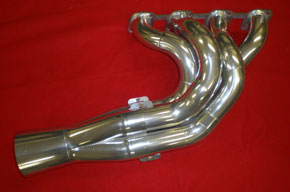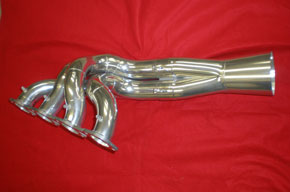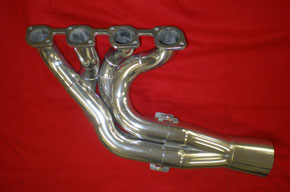 Pictured below is a side-exit header on Billy Gliddens car. These are becoming an increasingly popular style and have shown increases even beyond our normal under-car exit headers. Billy has been working with us for years to develop the absolute best all-out header design.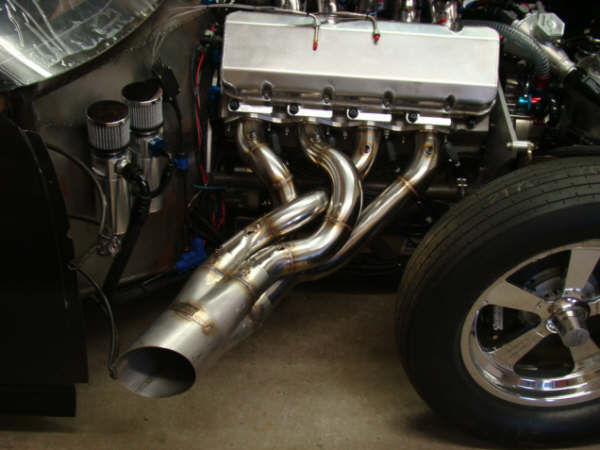 The Fab Shop Pro Comp Headers are the finest built and are proven winners. Prices for Non-Stainless start at $2,500.00. Call us at 317-294-4323 for more information.